What is Emsculpt and how does it work?
Emsculpt uses High-Intensity Focused Electromagnetic (HIFEM) energy to produce muscle contractions in target areas, strengthening and contouring the body non-invasively, without the need the for a surgical procedure. The Emsculpt technology is proven to deliver powerful results without breaking the skin and with no downtime! Non-surgical body contouring is achieved by the selective application of electromagnetic energy that causes the target muscles to contract more frequently and more vigorously than we can achieve in even our most intense workout regimens. This strengthens the target muscles and produces an improvement in the overall look and function of the body so you can do more of the things you enjoy!
A single 30-minute Emsculpt body sculpting treatment is the equivalent of doing about 20,000 sit-ups.
What areas can I treat with Emsculpt?
Emsculpt technology is safe and effective in achieving the following non-surgical body contouring goals:
Lifting and tightening the buttocks / butt lift
Strengthening and toning the front and back of the arms
Strengthening and toning the muscles of the abdomen/core
Strengthening and toning the upper thighs and lower legs
Is this body contouring treatment right for me?
If you would like to tone and strengthen target muscle groups, you are likely a good candidate for this treatment. Emsculpt is ideal for women who need help toning and tightening their post-pregnancy abdomens and want a bit of fat reduction as well. Emsculpt also accelerates muscle growth in treated areas, and can make exercise easier and more enjoyable for both men and women by tightening the core and trimming the waistline. This non-surgical body sculpting treatment is also ideal for anyone who needs a stronger core but may not be able to workout effectively due to an injury or back pain.
What to expect from your Emsculpt treatment
You will first meet with the qualified professionals at PureLee Redefined medical spa to determine the goals of your Emsculpt treatment in Colorado Springs. Typically, a specific body area will require 4 to 6 treatments over a 2 to 3 week period. After the initial series of treatments, less frequent maintenance treatments may be desired. During your treatments, the Emsculpt applicators are applied to a muscle group and high intensity, focused electromagnetic energy is used to stimulate muscle contractions. The intensity of the muscle contraction can be adjusted based on your comfort and tolerance. The treatments are typically done in a 30-minute session, but the treatment time may vary depending on the size of the area you treat. Since treatments are quick and easy, there's no need to re-arrange your entire schedule. Emsculpt technology helps you achieve non-surgical body contouring with no downtime. And, you can easily fit this treatment in over lunch or at the end of your day.
Do Emsculpt treatments hurt?
Most patients do not feel like Emsculpt treatments hurt. The powerful muscle contractions can feel intense but not sharp or painful in the traditional sense. Some people report sensation as similar to an intense workout, and you may experience muscle fatigue or soreness after the treatment like you would after a strenuous exercise session. We will check-in with you throughout your treatment to make sure you are comfortable and make any adjustments if needed.
Enjoy an improved appearance as well as non-aesthetic benefits
Selectively treating these areas refines your look in addition to providing tangible functional benefits such as reducing the risks of falls and injuries, as well as enhancing sports performance.
Before and after Emsculpt body contouring: strengthen & tone muscle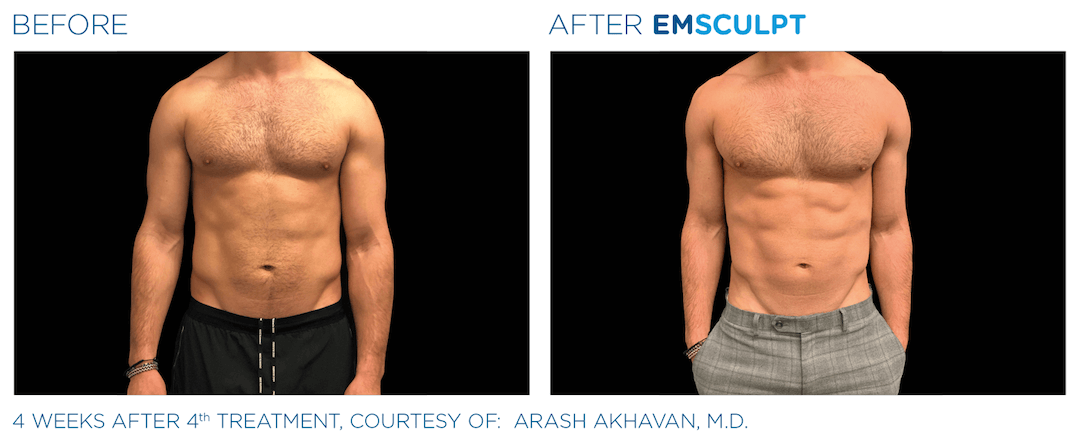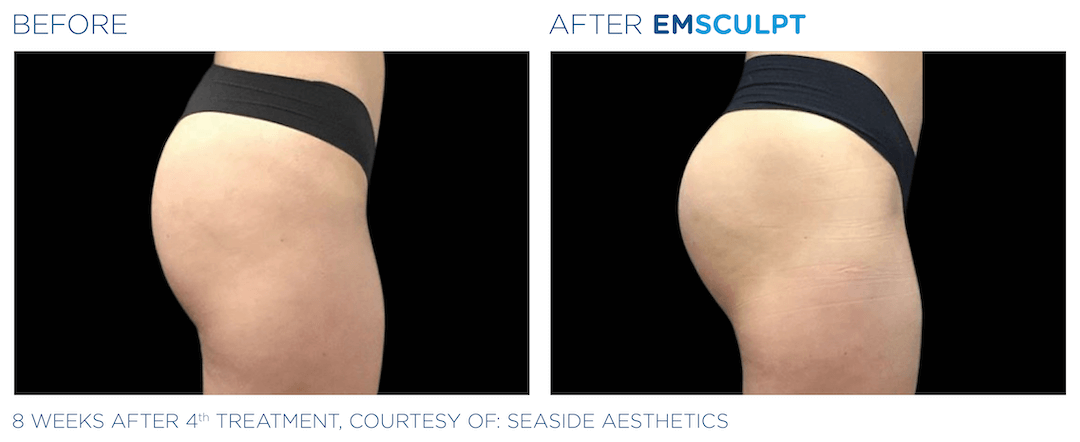 Emsculpt FAQs
What's the difference between Emsculpt and Coolsculpting?
Emsculpt and CoolSculpting are both effective body contouring treatments for men and women; however they each use different technologies to achieve noteworthy results. CoolSculpting is our go-to treatment for targeted fat removal uses controlled cooling to freeze and eliminate fat cells in specific areas of the body; it does not affect muscle growth. CoolSculpting is ideal if you're happy with your muscle tone and simply want a fat removal treatment. Emsculpt, on the other hand, helps shape your body just like thousands of reps at the gym would. While the HIFEM technology helps develop and tone your muscles, and a secondary benefit of Emsculpt is also some natural fat removal in treated areas. Both Emsculpt and CoolSculpting can be used on common problems areas like the abdomen, arms, and thighs.
Can Emsculpt treat skin laxity?
While Emsculpt's primary function is not to directly treat skin laxity, the increased muscle growth can provide a firmer foundation for the skin and help support a tighter skin appearance. Additionally, the increase in local circulation and collagen production Emsculpt stimulates may also have minor skin tightening effects. For pronounced skin laxity concerns, we recommend Morpheus8 treatments or one of our other skin tightening options. We would be happy to help you decide which treatment is ideal for your skin concerns during a consultation at our Colorado Springs medical spa.
Where can I find Emsculpt in Colorado Springs?
Call us at (719) 452-8541 or book online today for a free consultation with the professionals at PureLee Redefined medical spa and experience the transformative power of Emsculpt body sculpting technology in Colorado Springs!
We also offer a range of premium services to improve your appearance and well-being, including: Botox, Dysport, chemical peels, dermaplaning, laser treatments, vaginal rejuvenation, IV infusions, and more!
Areas served: