Stress urinary incontinence affects many of us after a certain age—it's a normal part of life! Many who suffer from this frustrating problem also experience strong urges, which can be equally difficult to manage. But as common as these problems are, you do not have to live with them. Here's how treatment with Emsella can help.
What is urinary incontinence?
The pelvic floor is the bowl shaped group of muscles in the pelvis that supports the pelvic organs, including the bladder. The pelvic floor muscles can weaken over time, due to trauma, or with childbirth, leading to leakage of urine in response to pressure on the bladder. This leakage is known as stress urinary incontinence.
There are two kinds of urinary incontinence, both of which can compromise your quality of life:
Stress urinary incontinence can arise at some of the most inopportune times, such as when coughing, laughing, sneezing, or even exercising.
Urge incontinence is a sudden, intense urge to urinate that happens frequently. It can be triggered by the sound of running water or arise when you pull into your garage after a long day at work.
And for many of our patients, there is a third kind of incontinence: a combination of both stress and urge incontinence. Emsella treatments help with stress, urge, and mixed incontinence.
What is Emsella?
Emsella is an FDA-cleared, non-invasive treatment for urinary incontinence that utilizes high intensity focused electromagnetic stimulation (HIFEM) to strengthen the pelvic floor. Magnetic stimulation has been shown to improve muscle function, and it works by stimulating the muscle to contract deeply and repeatedly. This is the same technology used in Emsculpt. But while Emsculpt strengthens your abdomen or glutes, Emsella strengthens your pelvic floor, simulating the effects of thousands of Kegel exercises.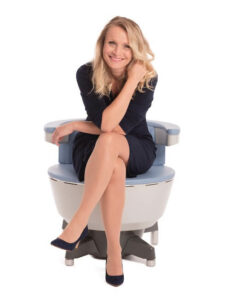 What should I expect during a treatment?
Emsella treatments are non-invasive and have no downtime. Each treatment session lasts for 28 minutes, and we typically recommend a series of 6 treatments performed over the course of 3 weeks for best results.
When you visit our office, you will be seated fully clothed on the Emsella chair. Positioning on the Emsella chair is very important in order to effectively target the pelvic floor muscles, so the staff at PureLee Redefined will assist you with proper positioning during the treatment sessions.
Our "Core to Floor" approach to urinary incontinence
A strong pelvic floor, particularly when combined with a strong core, has benefits above and beyond improving urinary incontinence. Our unique Core to Floor approach to strengthening the entire lower abdomen helps to enhance your athletic performance, quality of life, and sexual health. We will discuss your options for combining Emsella with abdominal and gluteal muscle strengthening when we meet with you about your Emsella treatment in your initial appointment.
How do I find out if I am a good candidate for Emsella?
You are likely a good candidate for Emsella if you struggle with mild urinary incontinence and/or urgency, whether or not you have already tried other solutions.
To learn if Emsella is a good match for your needs, schedule an appointment with our experienced, highly-qualified providers at PureLee Redefined in Colorado Springs to discuss your symptoms and treatment options. We are happy to meet with you to discuss your options, whether or not you are ready to begin treatment today.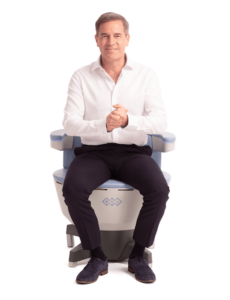 Electromagnetic waves vs. laser treatments for urinary incontinence
You may have heard of laser treatments, such as MonaLisa Touch, FemiLift, or FemTouch for tightening the vaginal area and improving stress incontinence. Here are the reasons why we prefer Emsella, which uses electromagnetic waves instead of lasers:
Lasers work by prompting your tissues to strengthen through a "controlled injury," but electromagnetic technology applies the equivalent of very strong kegel exercises to strengthen the pelvic floor naturally.
Laser treatments are intended for both vaginal rejuvenation and urinary incontinence. Emsella, on the other hand, is calibrated specifically for urinary incontinence and urges.
Laser treatments are specifically designed for women, but Emsella has been shown to be helpful for both men and women.
Laser treatments require a few days avoiding sexual activity in order for your tissues to heal. Emsella, on the other hand, requires no downtime or restrictions.