Are you thinking about microneedling, but wondering if it's worth the fuss? This blog is for you! Our board certified doctors, Kenya Lee, MD and Marvin Lee, MD are sharing everything you should know (and may not have heard) about the collagen-boosting skin treatment.
How long has microneedling been around?
The technology behind microneedling has been in development for many years. In the 1990s, a technique called "subcision" was developed, which involves using a sterile needle to create a small "wound" beneath pitted acne scars to prompt a healing response in the body, flooding the area with collagen and improving the scar's appearance. While this technique is still primarily used for acne scars, it inspired the development of "dermaroller" microneedling devices, and ultimately today's advanced microneedling techniques and technologies.
Our SkinPen and Aquagold microneedling devices create a controlled micro-injury using hairlike, tiny needles. Your body responds by "healing" the area, promoting growth factors and collagen in your skin. With these newer generation devices, there is no scraping or dragging against the skin: both devices use a stamping motion that penetrates the needles directly into skin at a controlled depth, with minimal damage to surrounding tissues. With microneedling, we can effectively treat:
Fine lines and wrinkles
Sun damage
Uneven skin texture
Lack of firmness in the skin
Scarring, i.e. acne scars and stretch marks
Enlarged pores
While a single professional treatment offers some immediately noticeable benefits, for truly impressive results, a series of treatments with microneedling is usually necessary.
Is microneedling safe for people of color?
Yes, microneedling is safe for dark skin types, but it's important to choose a knowledgeable provider. If you have melanin-rich skin, you may be prone to post-inflammatory hyperpigmentation, or pigmentation that appears after a wound or trauma to the skin. Since microneedling uses "micro-injuries" to promote more beautiful skin, there is a risk of post-inflammatory hyperpigmentation if the treatment is not performed appropriately for your skin.
However, in the hands of a highly-qualified medical provider who has experience with a variety of skin tones, microneedling can be used safely on skin of color and may be incredibly beneficial. In fact, it can help to even out certain types of hyperpigmentation. At PureLee, we customize our microneedling devices, topical products, and frequency of treatments to each patient.
Be aware that not every med spa will be qualified to provide treatment if you have dark skin. Do your research before choosing a med spa; look for a physician-run office with proven experience, excellent before and after photos, and reviews from patients who received the treatment you desire. Only trust your face to an expert!
Can microneedling treat melasma?
Microneedling is a useful and effective tool we use (in conjunction with others) for minimizing the appearance of melasma, or "mask of pregnancy." This hormone-related hyperpigmentation of the face is a frustrating, difficult-to-treat, and often highly visible form of hyperpigmentation that is especially common in pregnant women.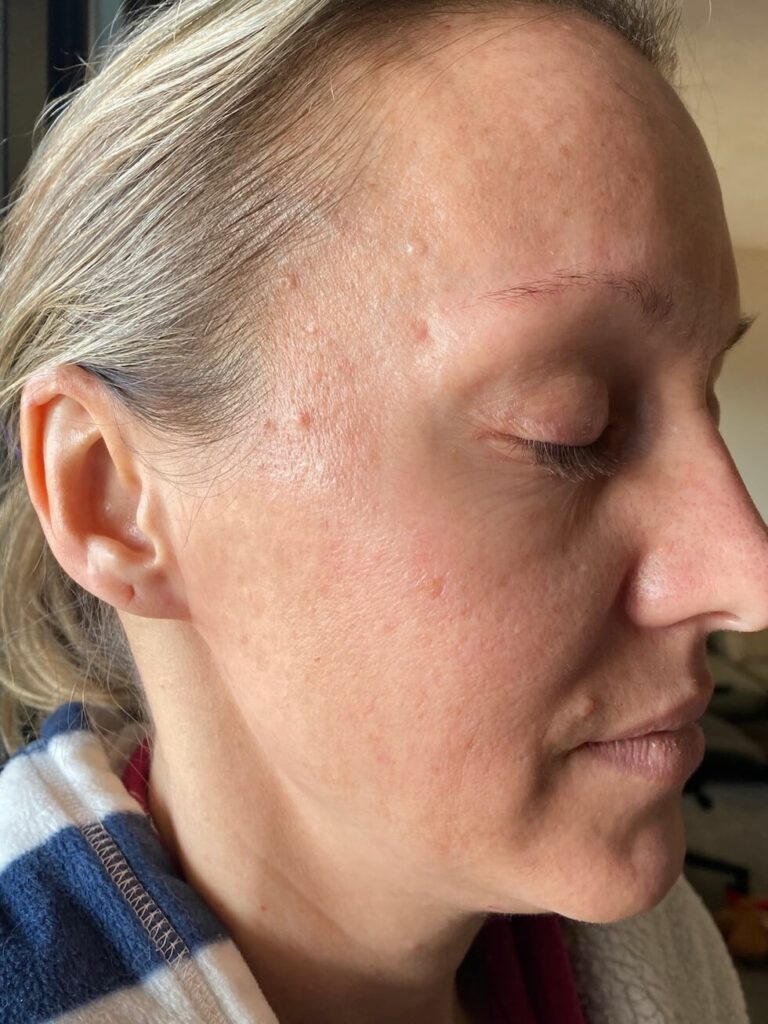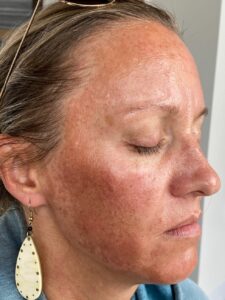 Our aesthetic doctors treated this patient's melasma at our Colorado Spring medical spa.
The patient pictured in these before and after photos was struggling with melasma and was treated with a series of Aquagold® micro-channeling (a professional form of microneedling) treatments paired with a brightening stem cell facial. She followed these treatments with a medical-grade skincare regimen at home to achieve and maintain these results.
Can microneedling get rid of scars?
In addition to all of its benefits mentioned above, microneedling is one of the few treatments we can use to gradually reduce the appearance of scars with a series of treatments. This includes acne scarring on the face and stretch marks throughout the body.
How do I take care of my skin before and after microneedling?
Wear sunscreen before and after your treatment—every day, whether indoors or outdoors. Wearing sunscreen is an essential part of protecting your skin from damaging UV rays. And after microneedling, your skin will be especially vulnerable to the effects of the sun! If you don't already have a sunscreen you like, we will advise you on post-microneedling formulas that wear easily and blend nicely into your skin without a white cast.
Additionally, you will want to care for your skin with a high-quality moisturizer to prevent transepidermal water loss after microneedling, which can lead to dry, flaky skin.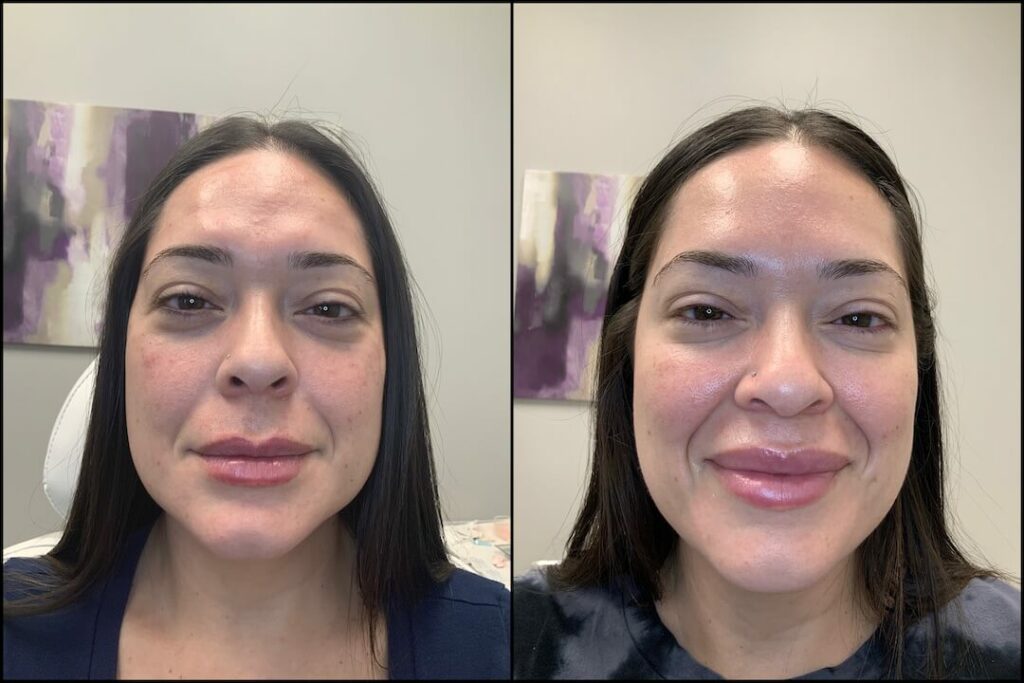 This PureLee patient wanted to appear more rested and rejuvenated. She received full-face rejuvenation with Aquagold microneedling, injectable Botox and filler, and additional facials.
If you've spent time in the direct sunlight in the past couple of weeks, whether or not your skin was sunburned, you may need to postpone microneedling. A sunburn or darkening of your skin in the sunlight is a sign that your skin has been damaged, so we may advise you to allow your skin to heal before undergoing microneedling.
Should I try at-home microneedling?
We suggest avoiding at-home microneedling devices or dermarollers. There is no way to ensure you're using the correct pressure, that you are getting the right depth of microneedle for your skin thickness and concerns, or that your treatment is properly sterile. It can be particularly risky if you don't give your skin enough time to heal (usually 4-6 weeks) between treatments. These mistakes could lead to permanent marks on the skin where the device was used, so avoid these devices. Furthermore, besides these risks, at-home microneedling devices cannot provide the impressive results that are possible with professional microneedling technology.
How do I choose a provider for microneedling?
Microneedling should be performed by a highly-qualified expert. While it may seem simple and straightforward, this procedure can be very risky in the hands of an unskilled, under-qualified provider. Choose a provider with outstanding credentials, dedicated aesthetic experience, and excellent results in their before and after gallery.
Here are some of the ways we prioritize your safety at PureLee Redefined in Colorado Springs:
Our aesthetic specialists sit down with you before coming up with a treatment plan to review your medical history, examine your skin, and ask you questions to get a sense of the lifestyle factors, genetics, and other elements at play in your skin concerns.
Once we've explored options and agreed on a treatment, we will customize it in every way possible for your skin.
We'll also discuss any other ways we believe we can help you to support your skin's health and beauty.
We offer multiple types of microneedling—both SkinPen® microneedling and Aquagold® micro-channeling—in order to offer you the treatment we believe will best serve your needs. Both are highly effective, with little to no downtime, and we have tested both treatments on our own skin to ensure we are confident in their results and safety.
Choose the Colorado Springs aesthetic professionals you can trust
Our board certified aesthetic doctors, Dr. Kenya and Dr. Marvin Lee, personally and carefully vet each procedure before offering it to PureLee Redefined patients. At PureLee, we are 100% focused on providing you with the highest quality, most comfortable, and most effective aesthetic care available. To schedule your appointment or learn more, call us at (719) 452-8541 today. You may also contact us or schedule an appointment online.