How Aquagold Works
The Aquagold microinjector device is precisely constructed from surgical grade stainless steel needles, then coated with 24 karat gold to reduce skin irritation. Each needle on the device is finer than a human hair to maximize comfort. The microchannel device connects to a reservoir which allows us to deliver micro-doses of customized therapeutics to the skin. The design of the Aquagold allows for controlled, consistent, and comfortable delivery to your specific areas of concern.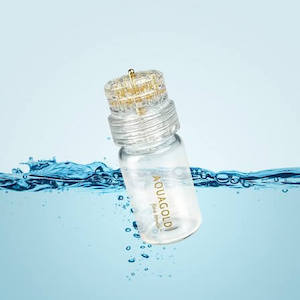 What Skin Therapeutics can I add?
The skin care professionals at PureLee Redefined will guide you in choosing the cocktail that best suits your individual needs. Some common skin therapeutics used in Aquagold treatments include:
Hyaluronic acid fillers
Neuromodulators such as Botox, Dysport, Xeomin, and Jeuveau
Vitamins and antioxidants
Platelet Rich Plasma (PRP)
Stem Cell solutions and growth factors
Pigment Control solutions
What to Expect
The Aquagold facial is easy and painless and takes about 30 minutes to perform. Your personalized solution is pressed in to the skin with the Aquagold advanced delivery system and there is no down time! We add lidocaine to the solution to enhance comfort and additional topical numbing is available upon request. You might experience some very mild redness for a few hours, but within 7-10 days Aquagold will improve skin texture and hydration, giving you youthful, glowing skin.
Benefits of Aquagold Treatment
Aquagold's treatment system is designed to deliver skin therapeutics to the dermis of the skin which is responsible for producing collagen and elastin so you can expect some skin tightening effects. This powerful technology effectively reduces the size and appearance of pores, reduces fine lines and wrinkles, and improves your overall skin quality. This treatment produces a natural, radiant look, making it an excellent go to for special occasions.
Come see the skin care professionals at PureLee Redefined to learn more about the Aquagold benefits and take one step closer to achieving a smooth, no make-up required, air brushed look. Dr. Kenya Lee, Dr. Marvin Lee and the team at PureLee Redefined will customize an Aquagold treatment regimen designed to address your specific skin care goals. Call (719) 452-8541 or book online today!
Areas served: