CoolSculpting on Thighs
While it's normal and healthy to have fat on your thighs, sometimes it doesn't give you the ideal image you want or that "beach body" you desire. If you're struggling to see results after weeks of diet and exercise, you might consider CoolSculpting on the thighs as a way of getting rid of that stubborn thigh fat. CoolSculpting is a safe, proven, and effective way of getting fat removed on the thighs & banana roll. CoolSculpting on the thighs is a noninvasive procedure that doesn't require anesthesia and is approved by the FDA.
CoolSculpting utilizes a cold therapy technique called Cryolipolysis which eliminates stubborn fat that is unaffected by diet and exercise. After several months, the body naturally flushes out the fat cells which produces a thinner and more sculpted look. CoolSculpting on the thighs is effective for both men & women but should only be used as an alternative treatment if diet & exercise isn't working.
CoolSculpting on the thighs & banana roll is a relatively quick & simple procedure. It requires 1-2 complete treatment sessions with multiple applicators to see results. Typically, 2 applicators are needed to treat each area but is dependent upon the amount of tissue to be treated. Each applicator takes about 35 – 60 minutes to complete. CoolSculpting on the thighs requires little to no downtime, meaning you can schedule treatments around your work & personal schedule.
Thigh Fat Removal – What are My Options?
Fat removal on the thighs traditionally involves a surgical procedure called a thigh lift or "thighplasty" and is designed to remove excess skin from the thigh after an initial liposuction treatment. However, this multi-step procedure is quite invasive. Before you get fat removed from the thighs, you will have to go through a comprehensive evaluation and receive specific guidelines on how to prepare for surgery. After the surgery, one can expect pain within the thighs for the first 24 – 48 hours and prepare for at least a week of downtime. Vigorous physical activity is limited for up to four weeks following the surgery.
Thighplasty is considered a major procedure and will leave behind permanent scarring that may be quite visible. There are even more risks after the operation, including swelling of the legs, infection, and bleeding. With CoolSculpting as an alternative, its no wonder people are moving towards this non-invasive procedure to get easier results.
Coolsculpting Banana Rolls
Removing fat on the banana rolls is a challenge for those looking to improve their backside. If you're not familiar with the term "banana roll"  it is the crescent-shaped strips of fat that accumulate just under the buttocks. While extra weight can increase the likelihood of developing banana rolls, it's possible that it could be a genetic. Like other areas of the body, this fat can be very tricky to lose. While there are a few exercises that you can do to help tone that area of your body, it's still a challenging area to sculpt and tone through standard means. Thighplasty could help with fat removal on the banana rolls, but like other major aesthetic surgeries, it comes with risks. CoolSculpting might be the best medical aesthetic treatment option available on the market today to help remove fat from the banana roll.
If you're nervous about going under the knife to get fat removed from the thighs & banana roll, then CoolSculpting might be the best option for you.
CoolSculpting on Thighs Before & After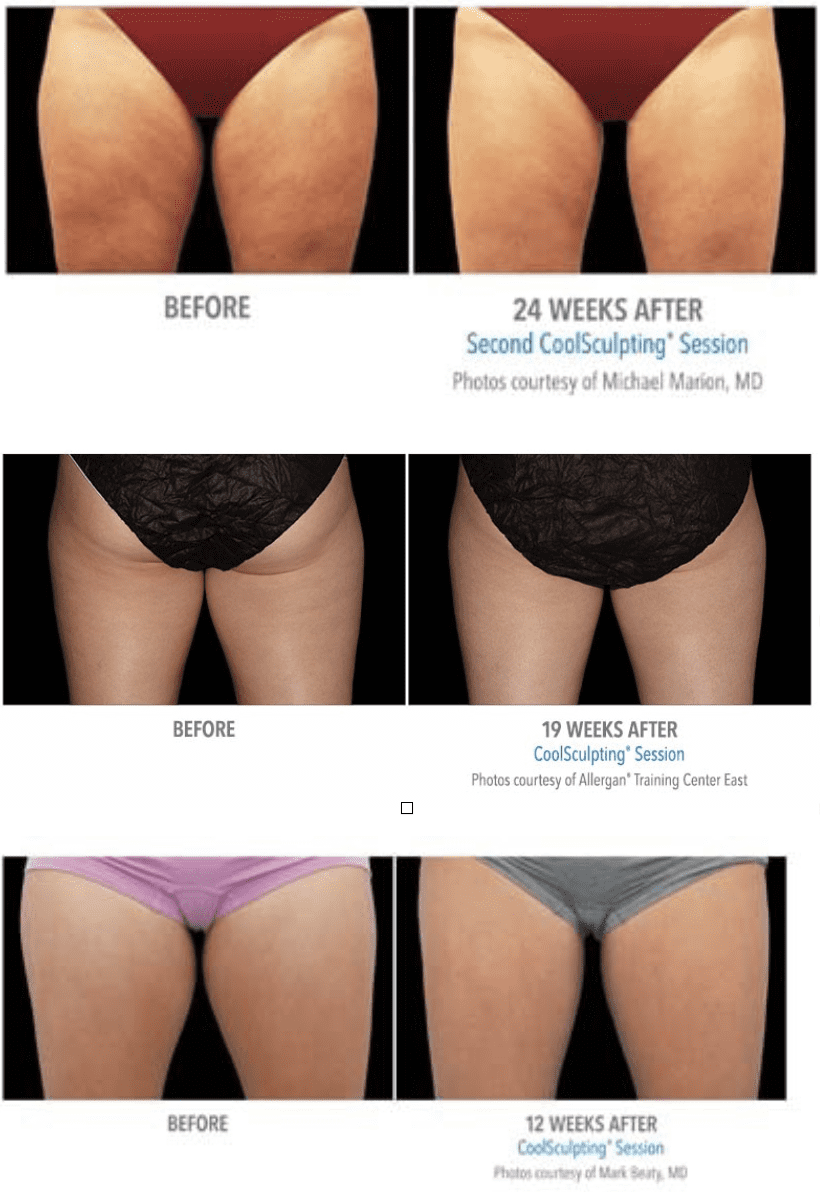 CoolSculpting on Banana Roll Before & After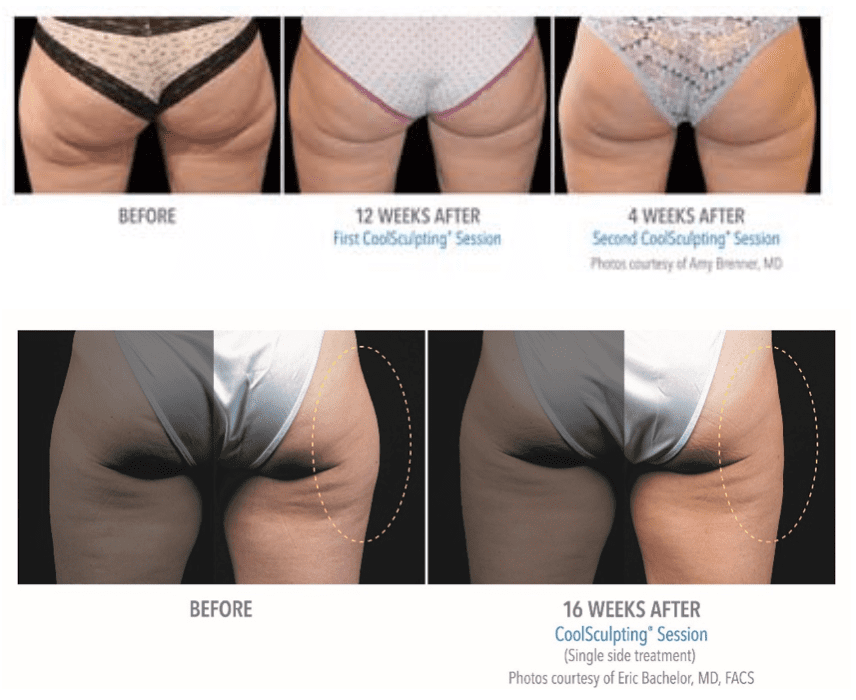 Learn more about CoolSculpting & body contouring services in Colorado Springs, CO with PureLee Redefined. Make an appointment online today and learn more about how we can help you with your weight loss goals.