CoolSculpting on Back Fat
If you're struggling to lose stubborn back fat, CoolSculpting on your back fat is a possible solution if regular diet and exercise aren't working for you. Many of our past clients have expressed frustration with their past attempts to minimize and eliminate back fat. We've seen our clients put in countless hours at the gym only to find that nothing has really changed. At the end of the day, they still are dealing with "bra bulge", armpit fat, and lower back fat and as a result, leads to shirts that are tighter or bras that are a pain to work with. If you're currently struggling with these ailments, CoolSculpting on your back fat might be the solution you need.
CoolSculpting & body contouring is available in Colorado Springs, CO with the experts at PureLee Redefined. Not only are we passionate experts in medical aesthetics, but we are also licensed medical doctors and believe that beauty and health go hand in hand. CoolSculpting on the back is a simple procedure that involves no surgery, needles, or breaking of the skin making it an easy and relatively painless treatment.
Back Fat Removal
If standard diet and exercise are not working correctly, there are several options for back fat removal. Liposuction is the heaviest duty method of back fat removal, as the procedure involves making an incision in the area of fat and then sucking it out. While liposuction can be an easy and effective way of removing back fat, it still involves breaking the skin and general anesthesia. While the results are immediate, you will still have to recover from the surgery and discuss how to maintain those immediate results. There is also the risk of post-surgery complications that arise.
If going under the knife makes you weary, there is always CoolSculpting on back fat to get results without breaking the skin nor undergoing anesthesia. CoolSculpting on back fat is a relatively simple procedure and requires 1-2 complete treatment sessions with multiple applicators to see results. For most people, 2-8 applicators will be needed to treat the entire area which is dependent upon the amount of tissue to be treated. Each applicator takes about 35-60 minutes to complete.  CoolSculpting treatments require little to no downtime, meaning you can schedule treatments around your work & personal schedule. Not only that, but it also costs a fraction of the price compared to traditional fat removal surgeries. Since every individual is different, a customized approach is necessary and involves a complimentary consultation to discuss & determine what is needed to meet a patient's goals.
CoolSculpting On Back Before & After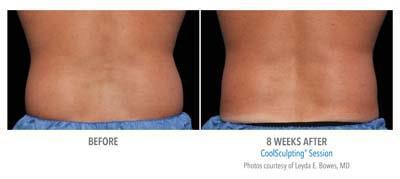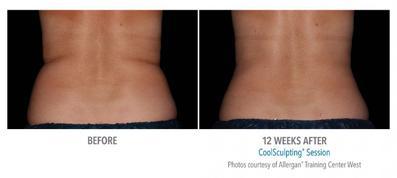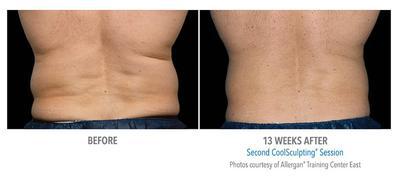 Schedule a free consultation for CoolSculpting on your back today! Feel free to learn more about our other medical aesthetic services in Colorado Springs, CO and see what additional health & beauty services PureLee Redefined provides.