CoolSculpting On Arms
Stubborn arm fat can be frustrating for those trying to lose weight but aren't seeing expected results. After months of diet and exercise, it can be disheartening to still see arm fat that just won't go away. CoolSculpting on the upper arms is a noninvasive way to reduce arm fat and involves no anesthesia, needles, or incisions. CoolSculpting on the arms is an FDA-cleared procedure and is a safe arm fat removal option for those that are not wanting to go under the knife.
CoolSculpting on the arms is a relatively simple procedure and uses a patented nonsurgical cooling technique used to reduce fat in targeted areas. This procedure is based on the science of cryolipolysis, which is the process of using cold temperatures to freeze and destroy fat cells.
Arm Fat Removal
A typical arm fat removal procedure involves multiple surgeries to improve the appearance of the underarm. Initially, arm fat removal could possibly involve liposuction. Liposuction is a procedure where a small incision is made, and the fat is sucked out. After the arm fat is removed, another procedure that would take place would be an "arm lift" and is primarily a cosmetic surgical procedure. This is to improve drooping, sagging, and loose skin after the arm fat removal. While exercise and toning improve the muscles, it can't address excess skin that has lost its elasticity after liposuction.
There are various risks after going through these procedures, including scarring, asymmetry in the shape of your arms, changes in skin sensation, and problems with stitches. If you're nervous about going under the knife, CoolSculpting on the arms might be the easier solution for you if diet & exercise has not been working. Learn more about CoolSculpting & Body Contouring in Colorado Springs, CO.
CoolSculpting On Arms Before & After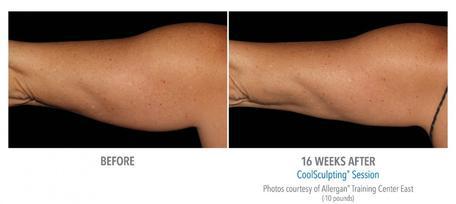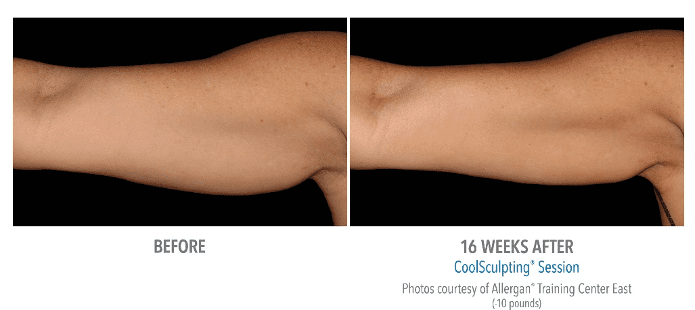 If CoolSculpting on the arms looks like the best solution for you, feel free to schedule an appointment online with medical doctors at PureLee Redefined in Colorado Springs, CO.